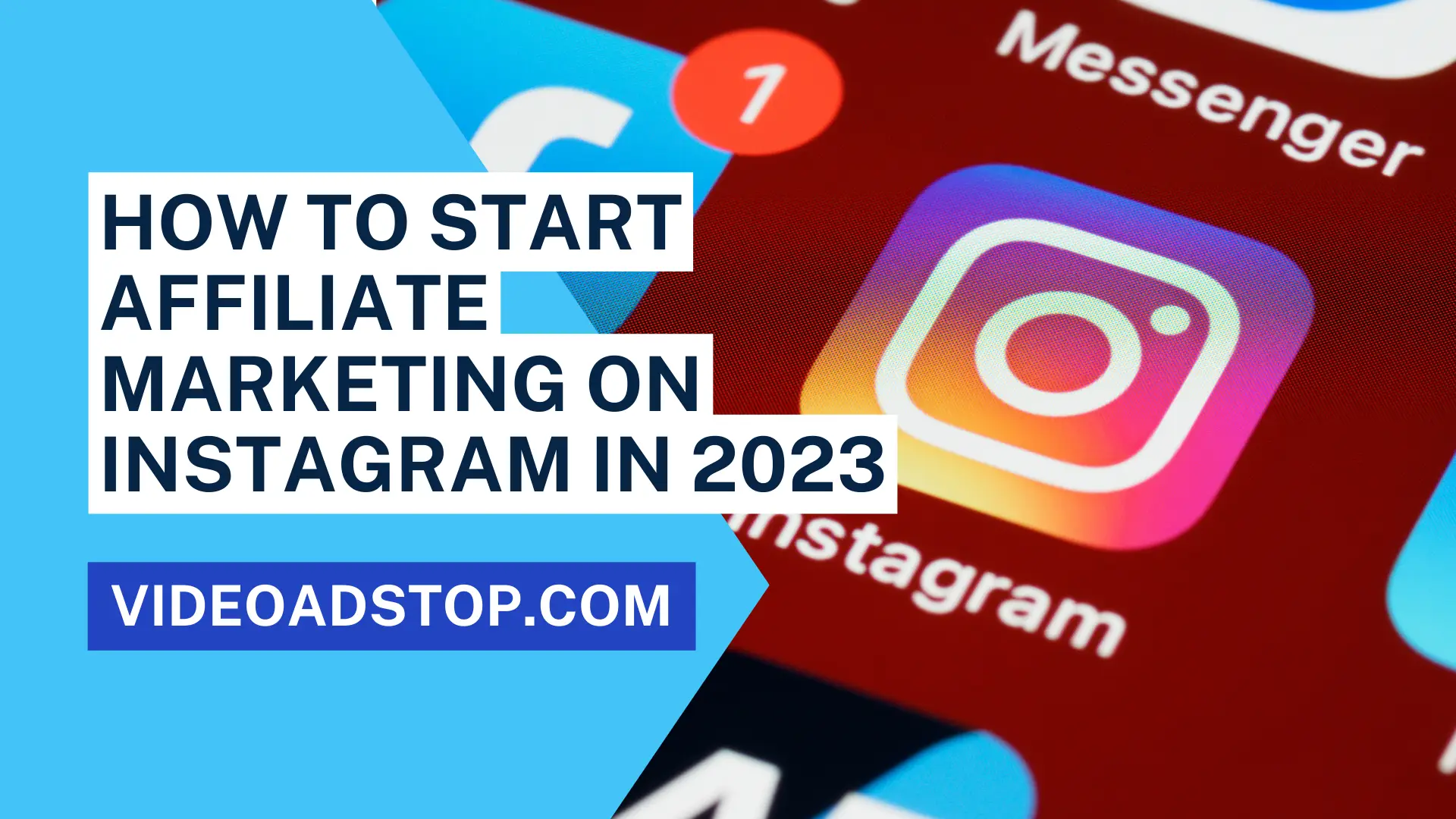 Instagram is a really important app that lots of people use. Famous people, leaders, people who want to make a difference, and regular folks all have Instagram accounts. Did you know that most of the people on Instagram are just regular people? In 2023, there are over 1.3 Billion people who use Instagram! That's a lot!
It's a great place for businesses to advertise and sell things. People who have lots of followers and companies have had success with Instagram Marketing before.
If you combine that with Affiliate Marketing, you can make some extra money on the side. But what is Affiliate Marketing and how can you do it? Don't worry, keep reading and you'll find out how to start an affiliate marketing on Instagram.
Table of Contents
---
Why did You Choose Instagram for Affiliate Marketing?
Instagram has lots of cool things that other platforms don't have. These things make Instagram one of the best places to make money with Affiliate Marketing. Let's take a closer look!
1. Has High-Quality Insights
Hey, smart marketer! I bet you're already keeping an eye on what people say about your company and products on social media like Twitter, Facebook, blogs, and forums. But did you know that people also talk about your company on Instagram?
Even if your brand isn't on Instagram, people still share pictures of the things they buy from you, make videos, and leave comments about your company on other people's posts. It's important not to ignore this feedback. It's important to know who likes your brand and understand what people think about it.
2. Can Generate Higher Conversions!
No matter what kind of business you have, it's really important to focus on increasing conversions. Social media can bring you lots of people who are interested in what you offer. Even though you can't put clickable links everywhere on Instagram, it still helps you make a lot of money. You can put links in your bio, shoppable feeds, and stories.
This makes Instagram less spammy for customers, and it saves money for marketers because they don't have to pay for clicks that don't lead to anything.
3. Super Large User Audiences
Instagram has a lot of people using it every month, more than 2 billion! That means there's a big opportunity for businesses to find customers. When you post on Instagram, use hashtags to help more people see your content and reach the right audience. Use hashtags that are related to your post and that the people you want to reach are searching for.
If you're willing to spend some time and money, you can also make ads that are targeted to specific groups of people. That way, you can reach even more potential customers.
4. High Enganging Commmunity
Instagram is even better than Facebook and Twitter when it comes to getting people engaged. It has a higher rate of people interacting with brands, which means that Instagram users are more interested in the things companies share.
If you want to increase engagement, a good way to start is by following and leaving comments on the posts of people who are talking about your company or products. You can also start conversations and get your followers involved by using your own hashtags.
The most important thing to pay attention to is real engagement because it shows that people are really interested, and it can lead to more sales and loyal customers.
5. Instagram is a Visual Content
It's not surprising that using images is the best way to communicate and share your message with others. That's why marketers like to use pictures in their social media marketing. When it comes to choosing a social media platform for this kind of marketing, Instagram is the best choice.
The feed on Instagram is all about interactive pictures. To make things even easier, you can use a free tool to schedule your Instagram posts. This way, you can share your pictures at the right time without having to worry about quality.
How to Start an Affiliate Marketing on Instagram?
Let us get started!
1. Create and Build Your Professional Page
You can do Instagram Affiliate Marketing with a regular public account. However, we suggest going the professional route. Why? Well, a professional account gives you important information that a marketer needs. It helps you keep track of things like how many people see your posts, how many followers you have, how much engagement you get, when your followers are most active, and information about your followers like their age and location.
Also, when you switch to a professional account, you can choose a tag for your profile like Creator, Musician, Editor, Blogger, and more. Take a look at all the options and choose the one that suits your profile the best.
2. Create Content Related With Your Affiliated Product
On Instagram, the most important thing is the content you share! It's important to create good content that your audience will enjoy so that more people will follow you. Make sure to post content regularly that is related to your specific area of interest.
Right now, the most popular content on Instagram is Reels and videos. So, when you create content, try to make it in the form of a video. That way, you can catch people's attention and engage them even more.
3. Start to Find Your Affiliates
After you have grown your audience on Instagram, it's important to find the right affiliates that match the theme of your page. What does that mean? Let me explain with an example. If you create content about makeup and skincare, it wouldn't make sense to affiliate with companies that sell clothes, sports accessories, or technology.
It wouldn't align with your followers' interests and it could harm your reputation. Choosing affiliates from a different industry is not beneficial for you or the company you're promoting. It's important to find affiliates that are relevant to your niche so that your audience will be interested and trust your recommendations.
4. Use Your Influence
No matter what you do, it's important to keep going. You don't want to disappear after one of your reels or posts becomes popular and goes viral. It's best to continue creating content consistently, even if some of it performs well and some don't.
Instead, focus on building a loyal group of followers, a community, and a network. These are the people who will be more likely to buy the products you recommend. So, keep engaging with your audience, keep creating content, and nurture the relationships you have built.
Our Tips for Affiliate Marketing on Instagram
Here are some tips for Affiliate Marketing on Instagram:
1. Start Sharing Your Posts
Recently, it has been observed that Instagram's algorithm gives more exposure to posts that are being reshared on Instagram Stories, sent via direct messages, or saved to collections. This is a helpful feature because it can increase the reach and engagement of your posts without much effort.
All you need to do is include a Call-to-Action at the end of your post or caption, encouraging your followers to save, share, comment, and like your content. By doing so, you can boost the visibility of your posts and get more interaction from your audience.
2. Build Your Storefront
In 2023, Instagram has evolved beyond just a photo-sharing app. It has become a platform for businesses, and a new feature called Instagram Storefront has been introduced. This feature allows you to showcase all the products from your affiliates in one convenient place.
Instead of users having to visit different websites, they can now explore and purchase products directly from your Instagram storefront, which is available on your profile or website. This makes it easier for your audience to discover and shop for the products you recommend without leaving the Instagram platform.
3. Don't Underestimate Hashtag
While some people may argue that hashtags have become overcrowded, we have a different perspective. It's all about finding the right hashtags for your business. Recent data suggests that using more targeted and relevant hashtags for your niche is recommended. Include hashtags specific to your industry or content to reach the right audience. A good range of hashtags to use is around 3-4 per post.
If you're new to using hashtags, it's advisable to select ones that have fewer posts associated with them. Look for hashtags with less than 500k mentions. This way, you can increase your chances of reaching a wider audience with your posts.
4. Learn and Track Your Page Performance
As an affiliate marketer, it's important to invest your efforts and resources wisely. Take advantage of the valuable insights provided by Instagram to understand your audience better. Utilize these insights to determine the busiest times when your audience is most active, target the most relevant demographics, and optimize your posting schedule accordingly.
By understanding your audience and tailoring your content to their preferences, you can gradually grow your business and increase your chances of success over time.
5. Use Label Paid Partnership
Towards the end of 2021, Instagram introduced a new feature allowing users to label a post as a paid partnership with a brand. This signifies Instagram's transition from being solely a photo-sharing app to a more business-oriented platform. When you label your posts as a paid partnership, you inform your followers that you have a partnership with the featured product or brand.
Additionally, you can mention in your post captions that you may receive a small commission if someone makes a purchase through your link. This transparent approach helps build trust and loyalty within your community, as your followers are aware of your incentives and can make informed decisions.
6. Display Your Story Highlight
Instagram Highlights is a feature that lets users save your stories on their profile for as long as they want. Instead of disappearing after 24 hours like regular stories, highlights can be displayed at the top of your profile.
This gives you the opportunity to showcase your accomplishments, top-selling products, special offers, and notable mentions in a more permanent and easily accessible way. Highlights provide a way for your followers to explore and engage with your important content beyond the limited time frame of regular stories.
7. Don't Be Afraid to Show Yourself
No matter what profession you have, whether it's being a graphic designer, video editor, or animator, Instagram favors content that showcases people. Even if your work is usually done behind the camera or in front of a screen, you can still create engaging content that features yourself.
For example, you can make tutorials, share behind-the-scenes footage, or come up with new video ideas where you are the main subject. By doing so, you can appeal to the Instagram algorithm and increase your chances of getting a higher impression rate.
When creating videos that involve conversations or descriptions, always include closed captions. You can use Instagram's auto voice-to-text tool or manually add subtitles. This ensures that your content is accessible to a wider audience, including those who prefer or require captions to understand the audio.
8. Put Links to Your Bio
If you're a regular Instagram user, you may have noticed that many creators include a code in their Instagram bio. This is a beneficial practice because when someone visits a profile for the first time, they often read the bio first.
By including a code in your bio, you can increase the visibility of your code and potentially generate more conversions. It's a strategic way to capture the attention of visitors and encourage them to use your code when making a purchase or engaging with your brand.
What is the Future of Affiliate Marketing on Instagram?
Affiliate marketing on Instagram has a bright future due to the platform's popularity and large user base. Instagram's features, such as the Swipe Up function, make it convenient for influencers to share affiliate links on their stories. Additionally, features like shoppable posts and product tags simplify the process of purchasing products directly through the app.
As a result, the growth of affiliate marketing on Instagram is expected to continue in the coming years. More businesses are allocating their marketing budgets towards influencer marketing and social media strategies, recognizing the effectiveness and reach of these platforms.
With Instagram's ongoing popularity and the convenience it offers for affiliate marketing, it presents a promising landscape for both influencers and businesses to collaborate and drive sales through affiliate partnerships.
Conclusion on How to Start an Affiliate Marketing on Instagram
Indeed, Instagram is continuously evolving into a more business-oriented platform. The CEO of Instagram has acknowledged this shift, emphasizing the platform's pursuit of new business opportunities beyond its origins as a photo-sharing app.
As this new era unfolds, it presents an excellent opportunity for you to grasp the fundamentals of Instagram Affiliate Marketing from the start.
By implementing the tips and tricks mentioned earlier, you can kick-start your Instagram Affiliate Marketing journey promptly. As Instagram continues to expand its business-focused features and explore new possibilities, staying informed and utilizing effective strategies will position you for success in this evolving landscape.
So, embrace the changing nature of Instagram and leverage its potential to maximize your affiliate marketing efforts.
Unlock the Affiliate Marketing Goldmine on Instagram!
Ignite your conversions with our cutting-edge content creation services. From eye-catching visuals to persuasive captions, we'll craft Instagram content that captivates your audience and drives affiliate sales.
Don't settle for average results. Supercharge your affiliate marketing success today by partnering with our expert team. Contact us now to start maximizing your conversions and skyrocketing your earnings!