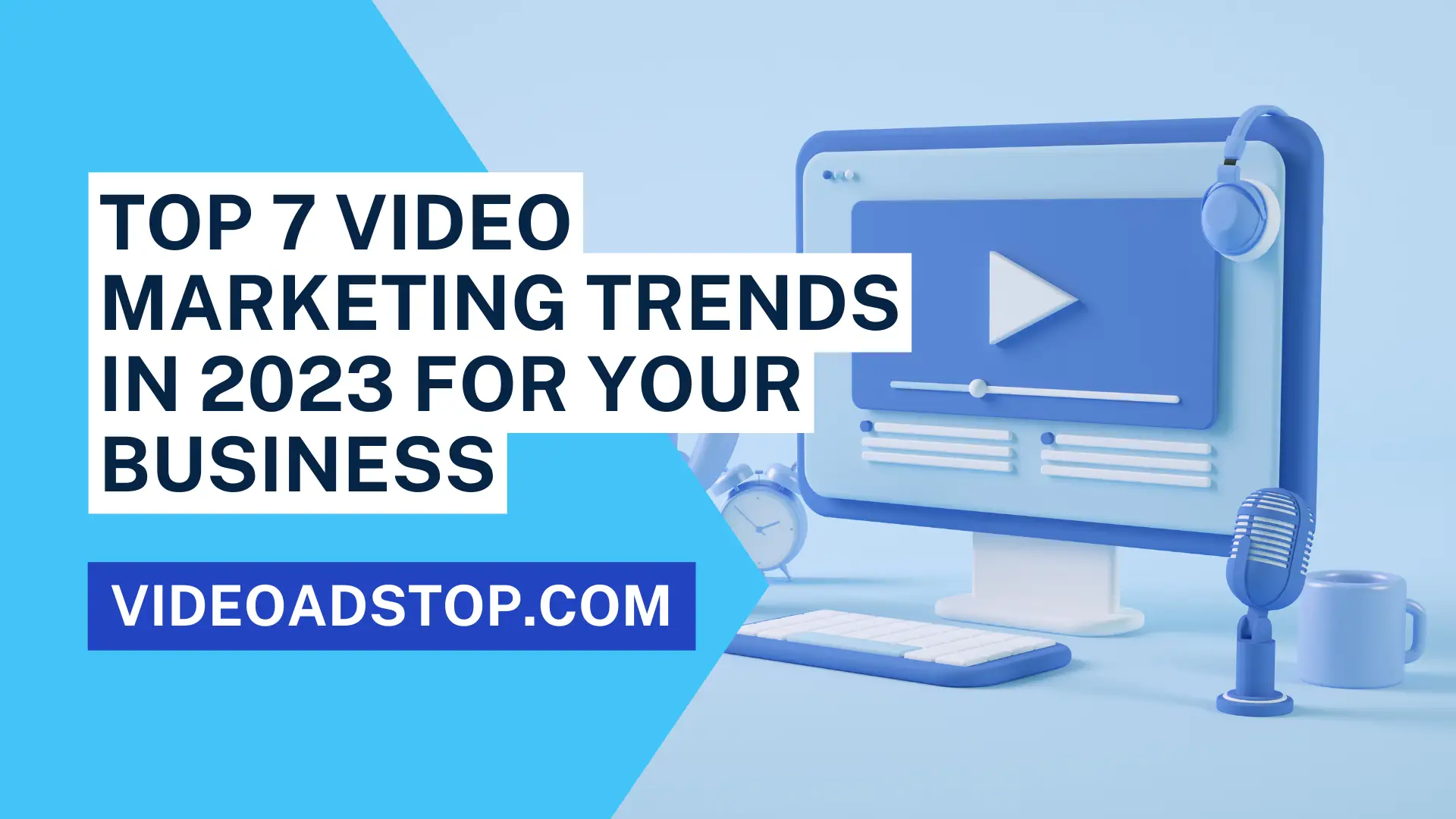 If you work in marketing, own a business, or were picked to make a video for your company, you're probably not wondering if videos are useful. Instead, you're asking where to spend your organization's money. You want the right kind of video and you want lots of people to see it.
This is where video marketing trends come in. They show you where people watch the most videos and help you decide how and where to share your next video. And below, you're going to learn the top 7 video marketing trends in 2023 for your business.
Table of Contents
---
What Are Video Marketing Trends?
Every year, we see changes in how people use and watch videos. We also see video creators trying new styles, equipment, and techniques, but that's a different topic. Right now, we're focusing on what people like to watch and how you can reach them better. It's important to know where your audience watches videos so you can find ways to get their attention more effectively.
7 Video Marketing Trends in 2023
Here's a summary of the important changes we're noticing in video marketing. Remember, this list doesn't include everything because there are many things happening in the industry. It's also not about choosing one or the other.
1. Silent Videos Trend
It's like going back to the beginning of movies because silent videos are becoming popular again. And they're not just popular, they're also smart. Nowadays, most people watch videos on their phones without sound. In fact, videos with sound or no captions can be strange or uncomfortable to watch.
That's why smart brands are making videos that already have captions or only use words on the screen, or sometimes both. This way, your audience can understand your message even if they don't have the sound on. It's a way to give them what they want and how they like to watch videos.
Silent videos aren't just good for social media. They can also be used effectively at events, trade shows, or conferences. In busy and noisy places, a silent but visually interesting video can grab people's attention and make them interested in your organization. It gives you an advantage over your competition.
2. Social Media Stories
Videos that disappear after 24 hours, like the ones on Instagram, Snapchat, or Facebook Stories, are really worth it. Because they only last for a short time, people are more eager to watch them right away instead of waiting. These videos are perfect for showing teasers of other videos or longer-lasting content.
You can give people a little preview of a video, product, or event and then provide a link for them to explore more. They're also great for trying out new content because they're not meant to stay around forever.
3. Instagram Reels, TikTok, and Shorts
TikTok is still really popular, Instagram is also putting a lot of effort into its Reels feature, and also YouTube came out with their new features called shorts as well. This means that videos are going to become even more important on Instagram. Brands have many ways to get involved and connect with their audience.
They can join in on the latest trends that are popular for a short time but can get lots of views quickly. They can collaborate with brand ambassadors or influencers. They can also create their own short videos to share with everyone. There are plenty of options to engage with video content on these platforms.
4. Over the Top Video
It's not surprising to hear that people are watching a lot of television through streaming services. Many people say we're in a fantastic era for TV, with new streaming services popping up all the time and lots of viewers joining in. As a viewer, you have access to all the shows and movies you could ever want.
But here's something interesting for advertisers: it's also a great time to place your videos where all those viewers are watching. Over-the-top (OTT) platforms have advantages over social media and other online videos because the audience is usually more focused.
Viewers have to watch your ad (sometimes they can skip it, sometimes not) before they can see what they want to watch. This means there's a higher chance they'll notice and remember your brand compared to platforms where they can easily scroll past it.
In our experience, streaming ads work best when they're creative, attention-grabbing, and well-made. If social media is where you try out quick videos shot on a phone, OTT is where you can make a big impact.
5. UGC Videos
People tend to trust other people more than they trust a brand, especially if the brand is new. Plus, there's a huge amount of content being uploaded to the internet every single day. That's why user-generated content is a trend that's here to stay.
There are many ways for brands to get involved in this trend, with brand partners being one of the best options. Instead of trying to create your own community or platform from scratch, you can work with someone who already has the knowledge, platform, and community to reach your audience effectively. It's a smart way to engage with users and build trust.
6. SEO Videos
You might already know about SEO (Search Engine Optimization) for web pages and written content, but did you know that it's just as important for videos? Google now includes video results in its search results, not just in the video tab. To show up in those results, you need to pay attention to things like the video's title, keywords, transcript, and description.
When you add a video to a webpage, it can also give your page a big boost in search rankings. Even a simple video that walks through the content of an article, for example, can be really effective for SEO.
It provides your audience with different ways to consume your content, so they can choose what works best for them. Nowadays, people are more likely to click that play button than read through the whole article.
7. YouTube as Always
YouTube has been around for a long time, and did you know that it's the second-largest search engine in the world? Billions of people watch videos on this platform every month, making it a fantastic place for businesses. Whether you upload videos to your own channel, use YouTube in-stream ads or both, it's a great way to attract a lot of viewers. However, it's important to know that just being on YouTube doesn't guarantee success.
You may have noticed that some big brands have surprisingly low view counts on their channels. To get good traffic on YouTube, you need to have a well-planned strategy, invest in high-quality video content, and create effective YouTube ad campaigns. We've worked with many clients who have made a big impact on YouTube and reaped significant rewards as a result!
Conclusion on Video Marketing Trends in 2023
You don't have to be a trendsetter to benefit from these video marketing trends. While trends like TikTok dances come and go, we believe that embracing these broader trends when you invest in your videos can bring excellent returns on investment for your business in the coming years.
We have witnessed this success with our own clients and we are confident that you can also enjoy the benefits. Contact us to discuss your next project and receive a quote.